A few years ago, while I was the parliamentary candidate for Westminster North my beloved and I were introduced to Baroness Thatcher at an event. "I'm a political husband" said Mr Cash, half in jest, "do you have any advice for me?" "Oh yes, " she replied focusing her attention on him and stating very firmly, "you must carry on doing whatever it is you do." And then, quite unprompted, she turned to me and added, "and your job is to look after him." I was speechless. My spouse was beside himself with mirth for days.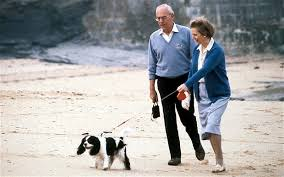 A few months later, still in shock, I told the tale to Peter Lilley in an attempt to find out whether she practiced what she preached. It depends how you define "looking after" he laughed as he told me that she did indeed often fuss about Denis. Sometimes during late cabinet meetings she would suddenly check her watch and leave the room. Leaving the door ajar, they once heard her calling: "Deeenis.. Denis darling, do make sure you eat. There are fish fingers in the freezer."
At the conservative party conference in 1975, the same domestic goddess had produced on stage a giant turquoise feather duster and proceeded to dust down the lectern. It was fantastically clever parodying of the contemporary female stereotype and underlined her confidence in herself as a woman as well as a politician. She found her own way to "look after" Denis while pursuing her political career, again simultaneously acknowledging and breaking with tradition.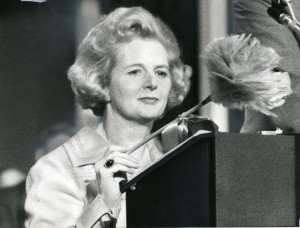 30 years later the assumption remains that it is the man's life/career/desires that will or should or must take precedence. The COO of Facebook, Sheryl Sandberg's book "Lean In" has sold over 2 million copies addressing these very issues. A lot of us are still trying to work it out. A new era of pragmatic feminist books, blogs and art – the Vagenda, the F-word, Shattered, Half a Wife, Emin, Girls – show how far we still have to go.
Yes, we now have all the laws we need to prosecute for equality in the workplace but we remain short of senior women in business, professions and parliament. I agree with Sandberg that until we achieve true equality in the home and men are supporting their partners in a truly equal way – by sharing the childcare, making their own career sacrifices, lowering their domestic expectations or taking on their half of the load – this will remain the case. How we achieve equal and mutual support and care at home is where feminism now needs to focus its energy now. It is timely to remember what a role model Denis Thatcher was for us all.
Of her many achievements perhaps Margaret Thatcher's choice of partner was her best. It takes a man of real confidence, quiet strength and great values to be a true partner to a woman. That man is too cool for swagger, too assured in his own life to begrudge the limelight, too much in love to mind the flak. I'd interrupt my meeting to tell him where to find the fish fingers any day.